Finnish National Travel Survey 2016
The purpose of the Finnish National Travel Survey is to collect basic data on mobility in Finland. The data is used to enhance mobility opportunities, to improve road safety and to reduce the harmful environmental impacts arising from traffic. The results of the survey provide traffic planners with information on different travel modes and the factors influencing mobility.
Finnish National Travel Survey 2016
The data for the survey was collected during 2016 using a multi-mode method. The respondents were able to give their answers by phone, online or by post. A number of urban regions took part in the survey with their own additional samples. More than 30,000 Finns submitted answers to the survey. The results (External link) were published in March 2018 (in Finnish).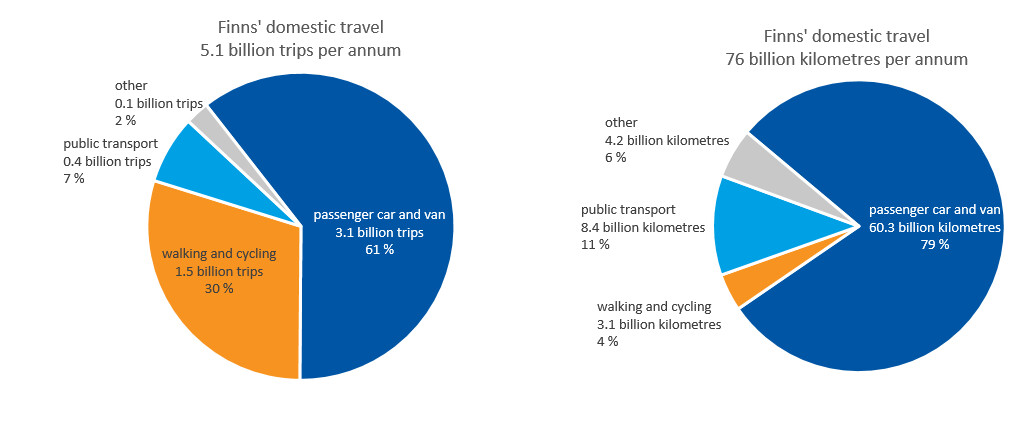 General presentation of the survey
The Finnish National Travel Survey has been carried out approximately every six years since 1974. It provides an overview of mobility in Finland and information on demographic, regional and temporal variations in passenger trips. Key findings of the Finnish National Travel Survey 2016 are presented below.
Finnish National Travel Survey 2016 and the definitions used
Here you can download the following publications:
Previous National Travel Surveys (1998-2011)
Special Adviser
Hanna Strömmer
hanna.strommer(at)traficom.fi
tel. +358 29 534 7053