Frequencies as the backbone of the digital society
All devices and services utilising wireless technology need radio frequencies to operate. We all use radio frequencies – we use radio equipment or services based on radio networks in our daily lives, and they utilise radio frequencies to operate.
Radio waves, moving at the speed of light, are a finite natural resource with a considerable social and economic significance. This is why it is important to use radio frequencies as effectively as possible. Radio frequencies do not diminish or wear out in use, but there can only be a limited number of different methods of use or users for each frequency range, so as not to interfere with each other. Radio frequencies do not stop at national borders, which is why we must agree on their use internationally.
Frequencies are utilised and relied upon by an increasing number of services in all sectors of society
Digitalisation has increased the number of radio frequency users and uses ‒ higher and higher frequency ranges are being taken into use for new radio equipment and the density of the use of lower frequencies is increased. The number of wireless devices is growing rapidly and the use of communications networks keeps expanding to new branches. In order to enable this development, the Finnish Transport and Communications Agency Traficom is looking for and creating new ways of promoting the more efficient and flexible shared use of frequencies by means of frequency planning and radio licencing in order to be able to offer frequency ranges for new innovations and services utilising radio frequencies. The use of frequencies can also be streamlined technically through radio equipment and receiver standard development.
Many factors affect the use of radio frequencies. Typically, radio equipment is used in pairs, i.e. information is transferred between a radio transmitter and receiver either in one direction or back and forth. Information can be transmitted from a smart watch, for example, to an app on the smartphone using radio frequencies and software updates can, in turn, be transmitted to the smart watch from the phone. The connection from a mobile network base station to a mobile phone always goes two ways, as well. Whereas the radio waves from television transmitters are only utilised for one-way transmissions to all television receivers in the coverage area. If a foreign radio transmitter, which has not been designed for the frequency in question, enters the radio receiver's frequency, the transmission may suffer from interference. This may manifest as the transmission being completely interrupted, a decrease in data transfer speed or the television image becoming pixelated, for example. 
Technological development is both a possibility and a challenge for the use of frequencies 
Technological development and the more comprehensive utilisation of wireless communications networks and radio equipment enables the development of functions of different sectors of society. Well-planned and interference-free communications networks already enable working remotely in many fields. In addition to working from home, wireless technology can be used to enable the remote use and control of devices and machines as well as tasks related to the control and monitoring of industrial production or the status of cargo in logistics. With remote work and functions, functional frequencies will directly reduce passenger traffic and travel.
The increasing use of frequencies and the more comprehensive application of wireless technologies in an increasing number of services and branches in society will also make these services more dependent on the interference-free operation of radio frequencies and communications networks. Securing the efficient use of frequencies and the significance of interference-free operation in frequency planning are further emphasised.   
Traficom acts as the national authority on frequency administration in Finland. Our key objective is to secure the efficient use and interference-free operation of frequencies in Finland, now and in the future. In addition to high-quality frequency planning, we will do this through impactful international cooperation on frequencies, skilled radio interference investigation and radio equipment market surveillance, where the significance of competence is highlighted as the density of frequencies used increases and as new technologies utilising frequencies continue to develop.
Functional frequencies are ensured through good planning
The objective of frequency planning is to promote the development of digitalisation and allow for radio equipment users to get the most out of the available radio frequencies. High-quality national and international frequency planning also plays a significant role in ensuring the interference-free operation of frequencies. Because changing the purpose of use of frequency bands is slow, we are primarily focused on streamlining frequency use through general planning of frequency use. It is used as the basis for the national frequency allocation plan of Finland. In this framework, we will ensure the availability of frequencies for wireless communications networks and interference-free use through practical case-specific frequency planning of practices related to radio licences.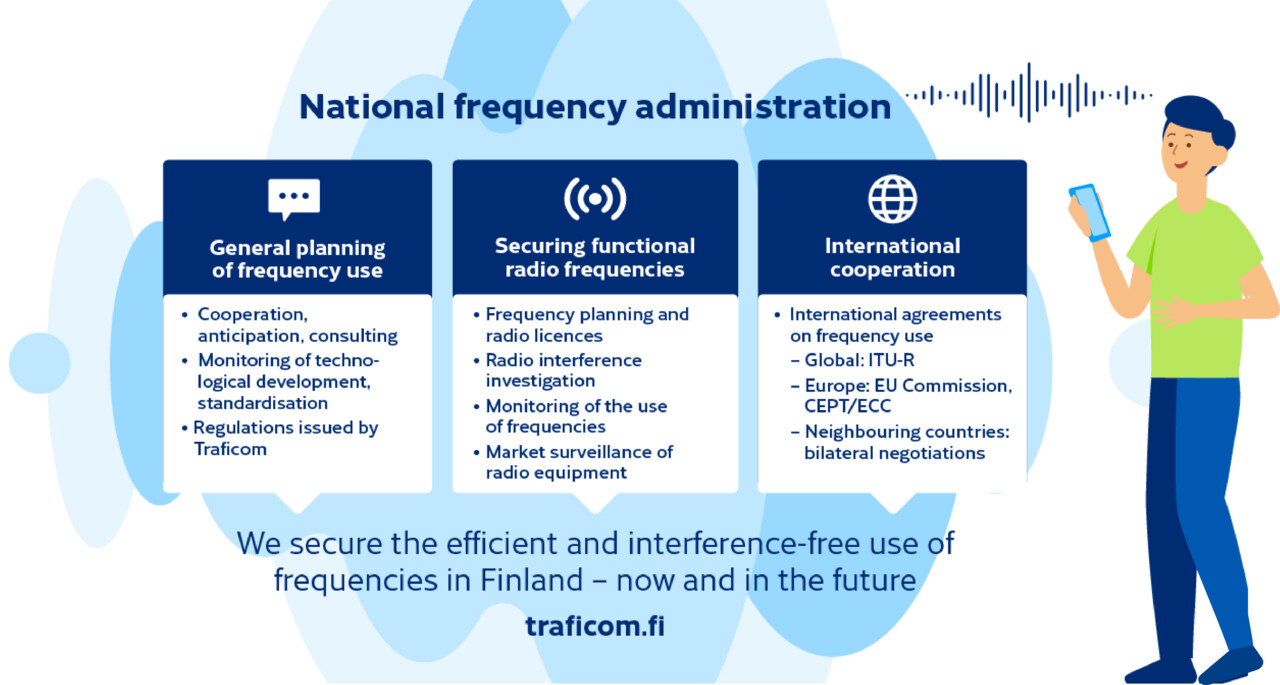 Proactive general planning creates a framework for national use of frequencies
The general planning of frequency use strives to anticipate and secure the continuous availability of useful frequencies to meet demand. Our general planning is based on prognoses that are based on consulting with frequency users, the development of foreseeable technology and known developmental directions. We conduct national cooperation in support of anticipation and the harmonisation of frequency use by listening to and meeting with frequency users as well as through active international cooperation on different forums. 
International frequency harmonisation
Technology and the market is developing in different ways in different countries, which is why frequency uses often differ by country. In certain services, the large-scale harmonisation of frequencies, or use for the same purpose internationally, is in the best interest of everyone. These widely harmonised frequency ranges include many frequencies used by aviation and maritime distress and safety communications as well as mobile communication frequencies. 
Many new applications also require the international harmonisation of frequency bands to create a mass market, enabling a device to be manufactured cost-efficiently for a wide market. Comprehensive international harmonisation will allow residents to use the same devices while travelling from one country or continent to another. Mobile communication frequencies, for example, are widely harmonised, allowing us to use our own mobile phones when we travel the world, and we do not need a separate phone for each continent. This type of harmonisation requires large-scale global agreement on the use of frequencies and the related terms. 
Proactive assessment of the need for frequencies, identification of network developmental directions and international cooperation have also enabled the use of short range devices, such as WiFi, Bluetooth devices and various radio-controlled toys, widely used in homes and society in Europe and globally.
International frequency harmonisation work is carried out in the European Commission's Radio Spectrum Committee (RSC), the European Conference of Postal and Telecommunications Administrations (CEPT) and the International Telecommunication Union (ITU). The World Radiocommunication Conference (WRC) of the ITU, which operates under the UN, is the supreme international body governing the use of radio frequencies. The decisions made in radio communications conferences create the international Radio Regulations by the ITU. The national frequency allocation plan of Finland has been drafted based on the Radio Regulations. It has been enforced with the Government Decree on Radio Spectrum Usage and Frequency Allocation Plan and Traficom's Radio Frequency Regulation (regulation 4) (External link). The Radio Frequency Regulation specifies the uses of different frequency ranges in detail.
Traficom, in cooperation with the Ministry of Transport and Communications, is participating actively in international frequency work and strives to ensure that Finnish views are observed in international frequency decisions.
International and national radio frequency regulation covers the frequency range of 9 kHz–3,000 GHz. Due to economic and technical reasons, radio frequencies are currently only used up to approximately 120 GHz. Most radio equipment operate in frequencies below 28 GHz. 
The radio licence process secures functional frequencies
Most radio equipment can be used without a radio licence. These include mobile phones and short-range radio equipment mentioned above. These devices can be used without a radio licence because their technical implementation, such as transmit power and frequency used, is such that they do not interfere with other radio equipment. The radio equipment operating on licence-exempt frequencies, so to speak, and their technical requirements have been specified in Traficom regulation 15 (External link).
In addition to the use of licence-exempt radio equipment, there is a significant number of radio equipment that cannot be used without frequency planning to ensure interference-free use. Traficom issues radio licences for these devices. The terms and conditions of the licence specify the terms governing the use of the radio equipment so as to not cause interference to other radio equipment users based on frequency planning. The terms also ensure that the radio equipment user has the use of functional frequencies. Transmitter-specific terms define the location of the transmitter antenna (coordinates and elevation), the frequency used and the transmit power as well as any other technical terms related to the use of the radio equipment, among other things.
Radio licences are issued extensively for radio equipment and networks operating in various sectors of society, such as radio links, vessels and aircraft, mass communication transmitters, satellites, private radio network and authorities. There are approximately 30,000 valid radio licences.
The aim of general planning of frequency use and individual licence and frequency decisions is to provide maximum benefits to radio frequency users both in the present and the future.
Radio interference investigation and monitoring
Despite careful frequency use planning, the radio system sometimes fails and suffers from interference for some reason. This is often caused by radio equipment used on the incorrect settings or a broken device causing the interference. Our tasks at Traficom include the investigation and removal of radio interference. We prioritise the removal of any interference in distress and safety communications, such as aviation and maritime radio traffic or public networks. Radio interference in energy supply and municipal engineering remote control networks have also been prioritised.
In addition to investigating radio interference, Traficom oversees the use of frequencies through automatic and manual monitoring. This will work to locate any unauthorised transmissions before they cause disruptive interference. Monitoring also covers the supervision of radio licences in cooperation with other authorities. We also inspect sound broadcasting transmitters that are subject to a licence and at great risk of interference to ensure radio reception.
The significance of expertise and competence is highlighted in radio interference investigation and frequency planning alike as the use of frequencies becomes denser and new technologies using frequencies are developed. 
The market surveillance of radio equipment secures the interference-free use of radio equipment
An increasing number of devices from toys to small electronics use frequencies. Radio equipment sold on the European market is governed by shared rules to prevent the devices from interfering with each other or being affected by interference from other devices. The device manufacturer, importer and distributor are responsible for ensuring that the device complies with these rules, i.e. conforms to requirements. Through radio equipment monitoring, we ensure equipment conformity. This ensures that all users of wireless equipment have the use of interference-free equipment, making the rest of our wireless communications interference-free.
Traficom's radio equipment market surveillance is always subsequent and based on spot checks, which is why we employ good planning of frequencies and international agreements on the use of frequency ranges to prevent any interference. If the use of the same frequency range varies globally, increasing travel and global online trade will increase the risk of equipment that is not designed to be used in Finland ending up in Finland. 
The rules are harmonised within the European market, but each member state monitors their own radio equipment market. There are clear indicators that the developmental direction aims at increasing harmonisation of the regulations governing market surveillance and operators. There are also efforts to utilise monitoring resources more efficiently and increasing the impact of monitoring through even closer cooperation between authorities.
When developing monitoring activities, it is important to remember that companies must have the opportunity to develop new innovations. Our market must also be attractive and functional for various operators now and in the future.
Go back to the page "Radio frequencies now and in the future" (External link)