Fast 5G already available to more than 1.8 million Finnish households
In ideal conditions, more than 1.8 million Finnish households had access to fast 100 Mbps 5G connections at the end of last year, representing 67% of all households. The availability of 5G is concentrated in population centres and around arterial roads.
Having collected data from telecommunications operators, the Finnish Transport and Communications Agency Traficom has published the first 5G coverage data.  "At the end of 2020, 100 Mbps 5G connections were available to 67% of Finnish households, covering slightly more than 2% of the country's land area," said Communications Market Specialist Joonas Sotaniemi. Meanwhile, mobile networks offering speeds of 300 Mbps were available to 60% of households in about 1% of Finland's land area. 5G base stations, which numbered almost 3,000 in total, could be found in 109 municipalities. 
At the same time, 100 Mbps 4G networks covered 17% of the land area and 93% of households. These speeds are available in ideal conditions, i.e. when network congestion is low, no obstacles are present between the user and the base station, and the connected device is compatible with fast data transfer rates.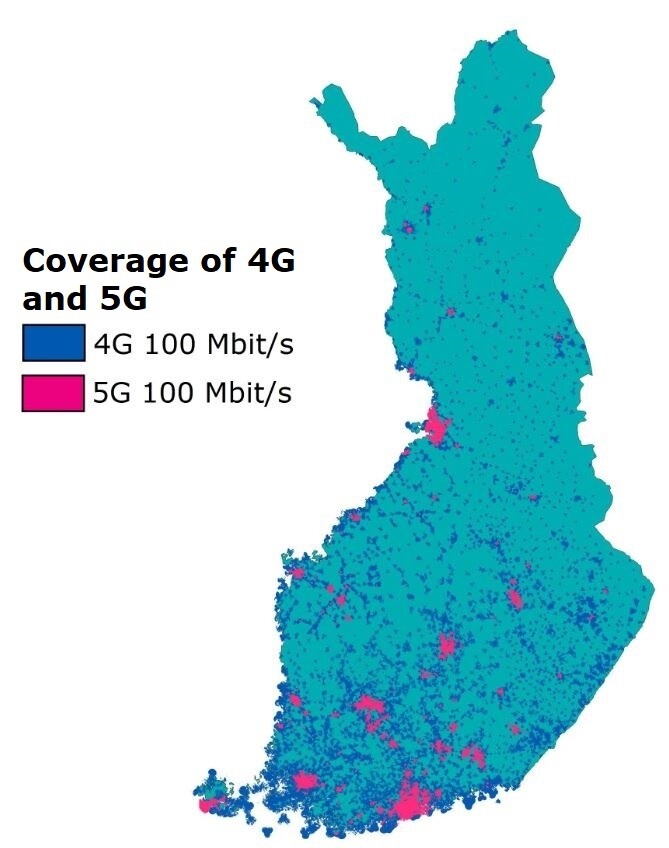 Fast mobile networks built where users are concentrated
Fast mobile networks are built in population centres first. A municipality-level examination shows that 100% of households in Helsinki, Kauniainen, Kerava, Mariehamn and Raisio are covered by the 100 Mbps 5G network. Major road networks are also among the first areas to receive new mobile network technologies. In late 2020, 100 Mbps 5G networks covered 17% of Finland's main roads and highways and 18% of the railway network, while 100 Mbps 4G coverage was available on 57% of both networks.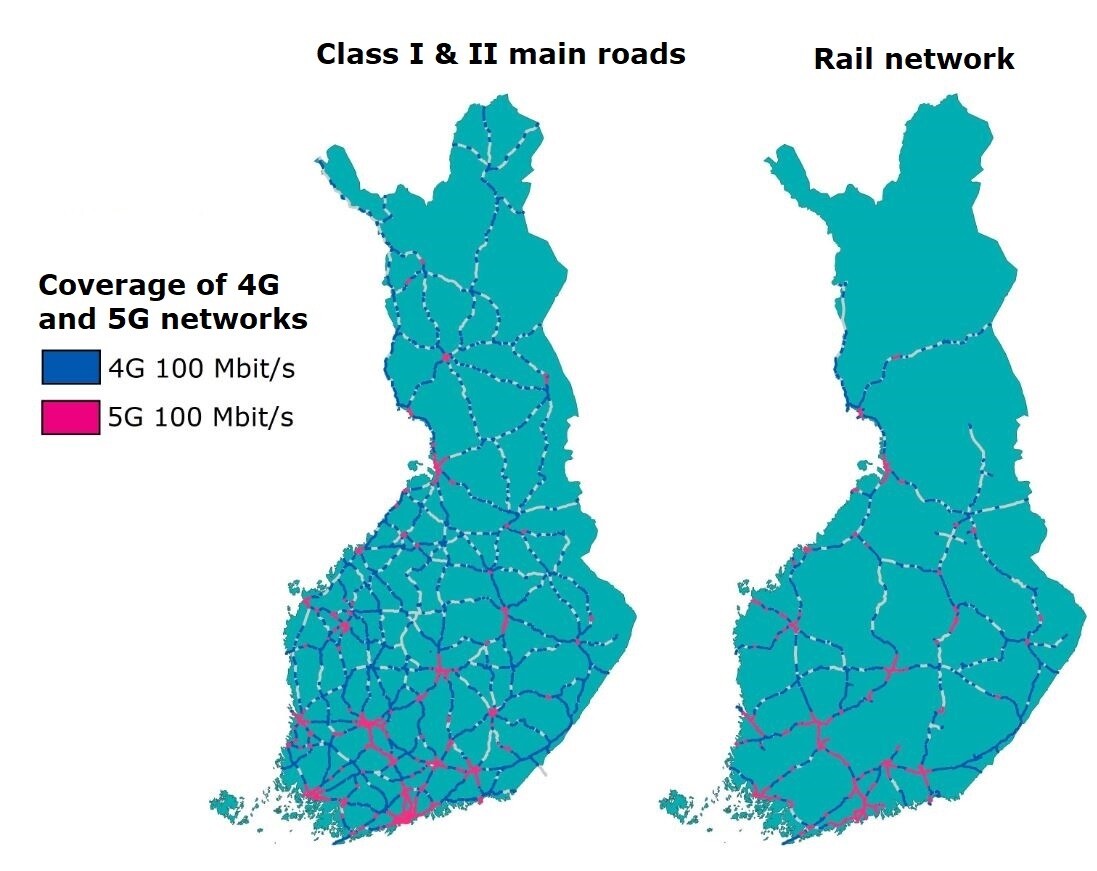 In a welcome development, the rate of growth of the 5G network is expected to speed up as new frequency ranges are increasingly taken into use. While the 4G network should continue to cover most needs in the near future, certain automated transport applications, for example, require lower-latency 5G networks. According to a cost study commissioned by Traficom concerning the use of communications networks in transport applications, it is considered a challenge that many future solutions in the field of transport require continuous capacity, e.g. a guaranteed 30 Mbps or 100 Mbps download speed, which is still far from a reality in many places.
See Traficom's animation (External link) for more information on mobile network coverage maps and their changes. (in Finnish)
How are mobile network coverage figures calculated?
The mobile network coverage data collected from operators by the Finnish Transport and Communications Agency Traficom is based on common, frequency range-specific signal strength limit values. The coverage represents areas in which the service in question is accessible with a typical mobile terminal device used outdoors at an approximate height of 1.5 metres from the ground.
Theoretical or computational mobile network coverage means that the indicated speed is available in ideal conditions. Therefore, this speed class-specific coverage data does not take into account factors including slower data transfer due to other users in the same area, the effect of buildings and natural obstacles, or speed reductions caused by the device being used. The data represents coverage outdoors.
Household availability is calculated based on the share of households in the theoretical coverage area in question. Geographic coverage is calculated based on land area.
In the context of data collection carried out by Traficom, 5G coverage refers to networks that either exclusively use 5G network technology or partially utilise the features of 4G networks in addition. The coverage of networks that rely exclusively on 5G network technology is still limited, as the higher frequency ranges they use are in the process of being taken into use.

Further information and enquiries