Steady expansion of mobile broadband service coverage, mobile data usage continues to increase
The second half of 2019 saw a modest expansion of high-speed mobile broadband service coverage. The share of households covered by up to 100 Mbps service rose by 2% to reach 93%. There was no significant change in the coverage of 300 Mbps connections, while 99% of households had access to a speed of 30 Mbps. The amount of mobile data consumed continued to climb as the number of text messages and phone calls fell.
The development of mobile networks spurred the expansion of 30 Mbps connections in particular, with 69% geographic coverage in Finland by the end of 2019, representing a 4% increase since late June the same year*. This equated to over 99% of all households. 100 Mbps connections saw slightly slower expansion, climbing by 2% to 16% geographic coverage and reaching 93% of all households. Speeds of 300 Mbps were only available to 16% of households following an increase of 1%. The geographic reach of 300 Mbps connections also remains relatively limited, with only 0.2% of Finland's land area covered. The data on mobile network coverage by speed class is based on availability under ideal conditions and does not take into account the effects of network congestion or structural and geographic factors.
* The figures of late June 2019 have been retrospectively corrected due to changes in the data provided by a mobile operator. As a result, the coverage data for June 2019 has been revised downwards.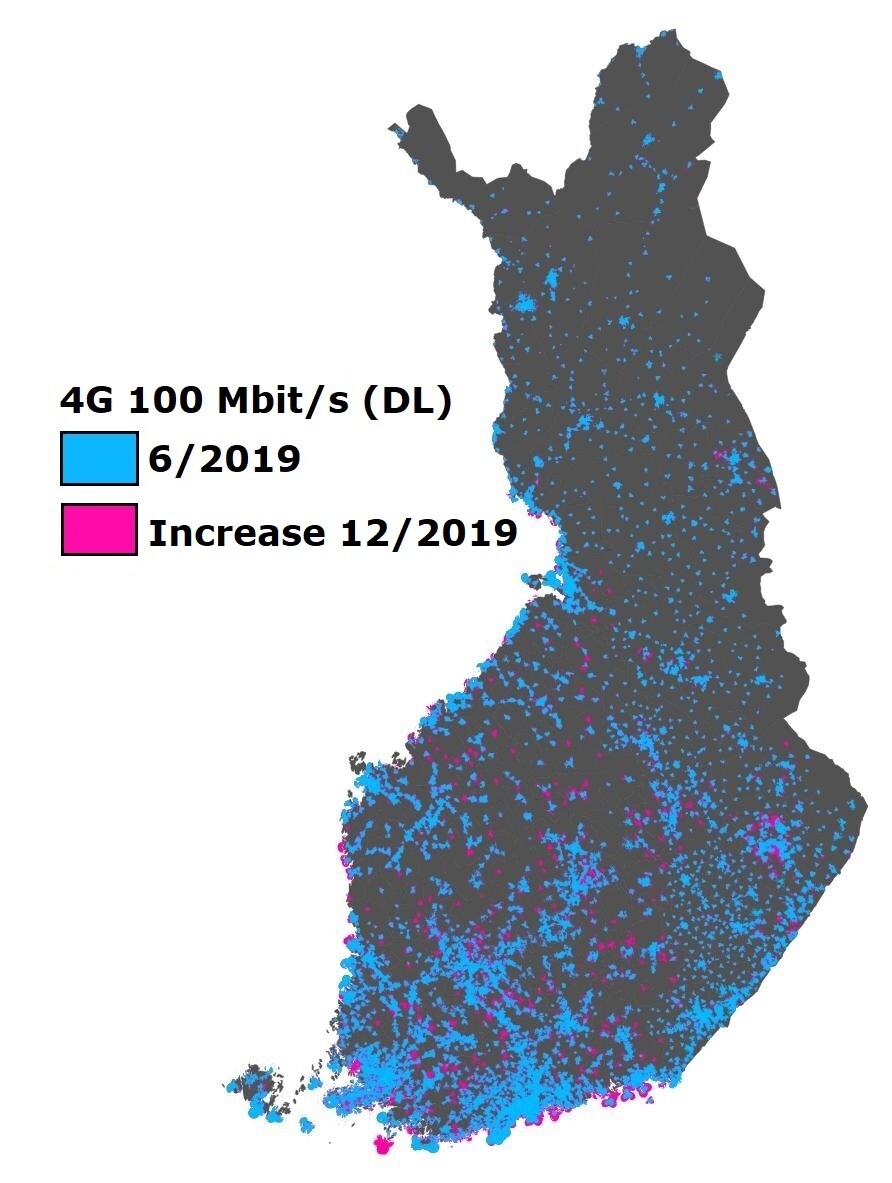 Mobile users increasingly gravitated towards internet services
By the end of 2019, the number of mobile subscriptions had decreased by 1% on the previous year, totalling approximately 9.3 million subscriptions. The number of subscriptions sold specifically for machine-to-machine communications (M2M) increased by 4% to reach 1.7 million subscriptions. Subscriptions with maximum download speeds of 100 Mbps or higher grew by 18% and totalled 4.4 million.
A comparison of the latter half of 2019 with the previous year shows a 9% decrease in call minutes and a drop of as much as 24% in the number of text messages, while mobile data volumes grew by 20%. The second half of 2019 saw 38 GB of mobile data used and 22 text messages sent per person. The impact of instant messaging services such as WhatsApp, which have gained popularity on the market since the beginning of the decade, has been substantial, especially with regard to the decline in text messages. The number of text messages sent has decreased by a total of 55% over the past five years.