Use of Internet Telephony Services Sees Rapid Growth
Up to 55% of Finns use internet telephony and video services weekly, representing an increase of 16% on the spring of last year. Meanwhile, the use of social media services has decreased slightly. The Finnish Transport and Communications Agency (Traficom) has conducted a consumer survey to look into a range of questions related to Finns' internet use.
As Finns limited in-person contact and interaction this spring, voice and video calls via applications like Teams, Skype and WhatsApp saw a surge in popularity. The share of Finns sending weekly instant messages on WhatsApp, Facebook Messenger and other comparable services reached 82%, up 5% compared to last year. The slight downward trend in social media use continued despite the changes brought on by the pandemic, with 63% now making weekly updates. There were no significant changes in the use of video services.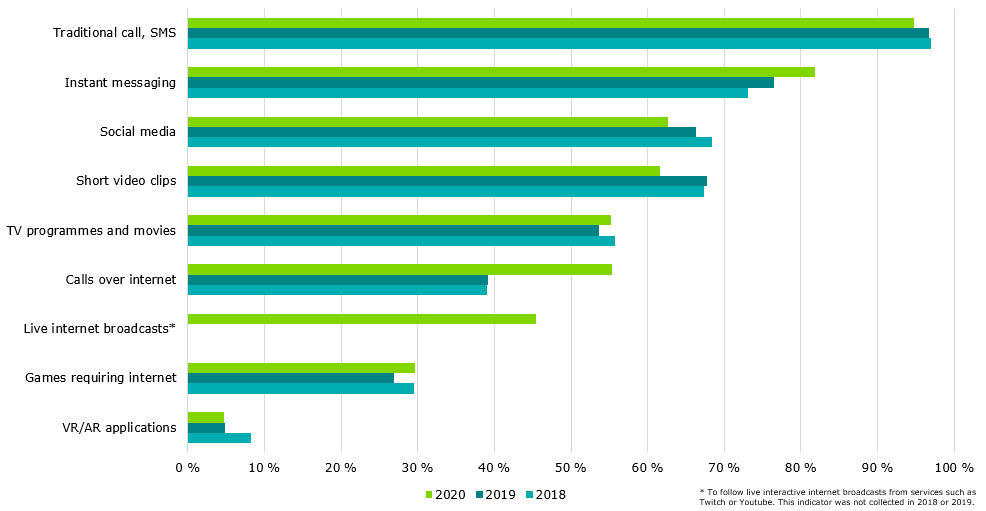 The share of those working remotely on a weekly basis grew to 38%, up 6% on spring 2019. The figure for remote learning grew by 4% to reach 27% of all students. "The share of remote workers actually increased at a relatively moderate pace, but some of those working from home may have seen a considerable increase in the amount of remote work", said Communications Market Specialist Marja Heinonen.
The share of Finnish households with access to a mobile internet connection exceeded 90% in late spring 2020. Meanwhile, around one in two Finns had a fixed internet connection in their homes, with almost 80% using a wireless local area network (WLAN). Internet-connected devices other than mobile phones and computers could be found in 61% of households, representing an increase of 4% on spring 2019. Activity trackers and other health gadgets were particularly popular, with one in five households now owning one.
The consumer survey was carried out by IROResearch Oy. A total of 2,000 interviews with Finns aged 15 years or older were conducted for the survey. The telephone interviews were carried out in April–June 2020.
See the survey results (External link)
Enquiries
Marja Heinonen, Communications Market Specialist, tel. +358 29 539 0306, marja.heinonen(at)traficom.fi