Consumers: 5G is fast, good and futuristic – but unfamiliar to many
According to a consumer survey on the use of communications services by the Finnish Transport and Communications Agency Traficom, consumers associate 5G technology with speed. However, 5G technology remains unfamiliar to many. Traficom monitors the development of communications networks and services in Finland and publishes related information for the public for the purpose of monitoring the communications market and foreseeing any changes in it.
Digitalisation is progressing steadily, providing consumers with new services made possible by technology. Traficom's annual consumer survey on the use of communications services and networks provides an idea of how different digital advancements are viewed by consumers and what types of services consumers use in their everyday lives.
Consumers expectant about 5G technology
Respondents were asked to describe their view of 5G technology in the Traficom consumer survey in spring 2021. The responses highlighted a lack of awareness and the fact that consumers did not know very much about the technology. However, many respondents mentioned speed as one of the characteristics of 5G technology – some even said it seemed too fast. Many responses featured two different views: 5G technology was seen to represent the future, but also cause concern, or it was considered faster, but alien.
In addition to a lack of awareness, 5G technology was described as a modern, contemporary or futuristic technology. Comments mentioning the future also seemed to imply that 5G technology was something that the respondent might only use in the future. Many responses stated that since the respondent had no experiences of the technology, they also had no specific views. Others described 5G technology as unnecessary, as the current networks were sufficient for their personal use.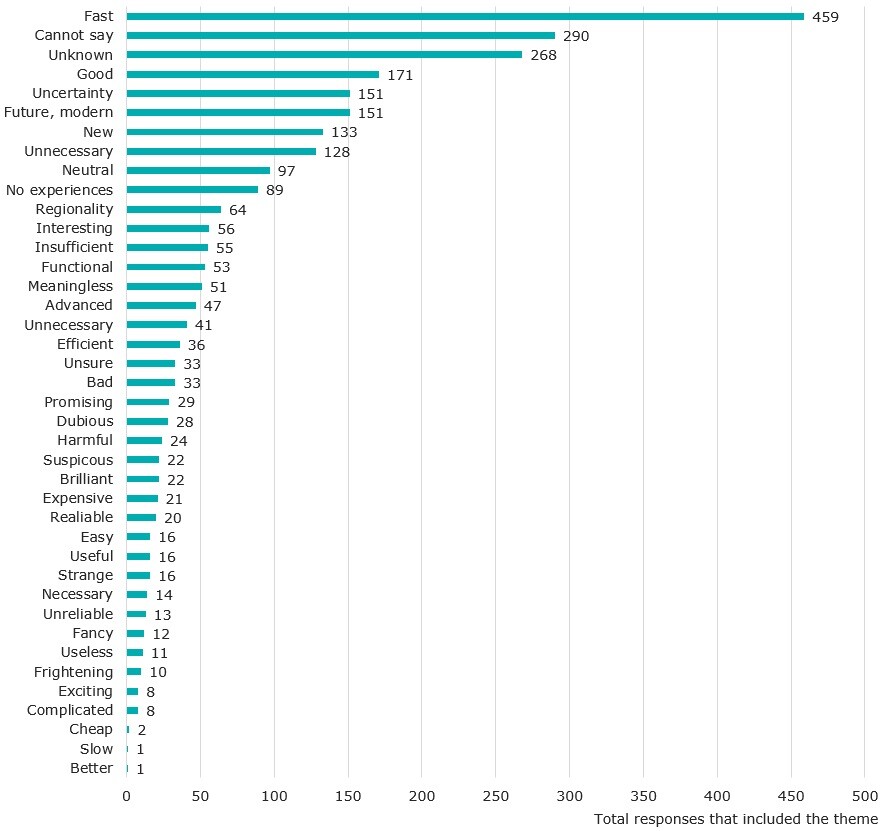 Many responses also stated that 5G only works in certain areas or that it is an urban technology. Some respondents said that their area had no functional network at all. Many wondered if 5G needed a comprehensive base station network and said that the network still needs a lot of work.
Other responses stated that 5G had been a popular topic in the media, and some considered it to be tiring. Some respondents felt that 5G is unnecessary for households but possibly necessary in some other contexts.
No changes to broadband connections in households
Thirty-five per cent of consumers said that they use a personal smartphone that enables the use of the 5G network. Seeing as smartphones enabling the use of the 5G network have only been sold in Finland for a couple of years, this figure seems high. Respondents may be unsure as to whether their smartphone enables the use of the 5G network, which would fit in with earlier statements on unfamiliarity with 5G technology. Thirteen per cent of consumers said that they do not know whether they can access the 5G network with their phone or not. There is no great demand for 5G phones among consumers in the near future, as only 12% said that they would buy a 5G smartphone in the coming year.
The general distribution of broadband connections in households has remained the same compared to previous years. In spring 2021, half of Finnish households had the use of a fixed broadband connection and a mobile broadband connection. Forty-three per cent of households only used mobile broadband. Here, mobile connections (e.g. smartphones) used for talking and data transfer or mobile connections used only for data transfer (e.g. 4G/5G modems) are considered mobile broadband connections.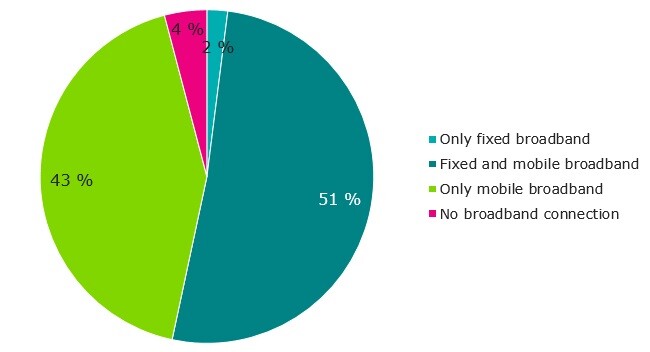 Seventy-four per cent of consumers have the use of a wireless local area network, such as a wi-fi network or phone hotspot at home. The technology behind the local area network is a mobile connection for 36% of consumers and a fixed connection for 27% of consumers. Roughly 10% of respondents were unable to say whether they had a wireless local area network at home.
The consumer survey was carried out by IROResearch Oy. The survey involved interviews with 2,001 Finns over the age of 15. The interviews were conducted over the telephone in March to May 2021.
The other sections of the consumer survey will be reviewed in future publications.