Small Municipalities Shine in Fixed-Network Broadband Classification — Fibre Connections Already Available to One Million Households
The Finnish Transport and Communications Agency (Traficom) has published a municipality-specific broadband classification that evaluates the availability and speed of the broadband network as well as the number of active subscriptions. Excellent fixed network broadband service was available in 20 municipalities. The equivalent figure for the mobile network was 17. Small municipalities saw the highest fixed network ratings, while the largest cities offered the best mobile connections. The increase in the availability of fixed broadband continued, with fibre connections now accessible to over a million households.
Traficom has published a municipality-specific broadband connection ranking. Municipalities were rated on both fixed and mobile broadband, with each awarded between zero and five stars on the basis of late 2019 data* on availability and the number of subscriptions. 
Municipality-specific broadband classification shows development of fixed and mobile networks
In the fixed network classification, the top 20 municipalities reached a four-star rating. "The top-ranked municipalities were ones with smaller populations, including Ålandic municipalities as well as Ii, Tyrnävä and Rääkkylä in mainland Finland", said Senior Specialist Elina Pallas. The highest rating among large cities, 3.5 stars, was reached by Helsinki, Lahti, Oulu and Tampere. Of Finland's 311 municipalities, 123 or some 40% achieved at least 2.5 stars.
The fixed network star rating is based on the availability of 100 Mbps connections as well as the number of at least 30 Mbps and 100 Mbps subscriptions currently in use. A five-star rating would mean that virtually every household in the municipality had a 100 Mbps connection. 
In the fast mobile network classification, 17 municipalities achieved a four-star rating. Along with the Capital Region, Finland's other most populous cities such as Jyväskylä, Turku and Tampere received good results. Half of all municipalities (162) scored ratings of 2.5 stars or higher. 
The mobile network rating gives particular weight to 100 Mbps and 30 Mbps road coverage, but also takes into account 100 Mbps and 300 Mbps household coverage. A five-star rating requires comprehensive 100 Mbps road coverage and substantial 300 Mbps household coverage.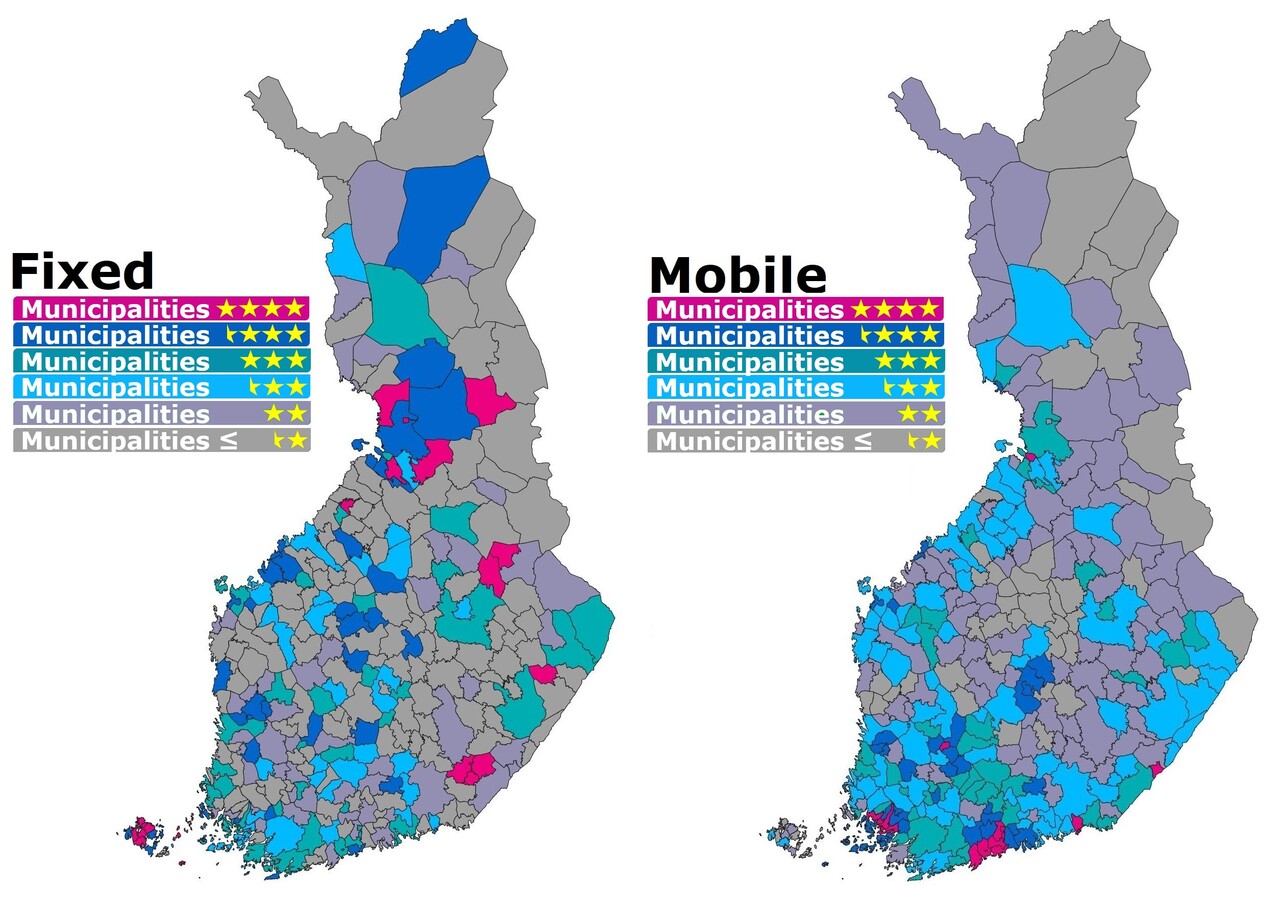 Availability of fast fixed connections continues to grow
By the end of 2019, fast fixed broadband (100 Mbps or higher) connections were available to 64% or just under 1.8 million households. The figures for late 2018 were retrospectively amended, bringing the increase in availability recorded in 2019 to approximately 3%. Despite this trend, almost one million Finnish households still lack access to high-speed fixed broadband.
The majority of fast broadband connections are based on fibre optic technology. "At the end of 2019, 38% of households were covered by fibre broadband, marking the first time this figure has exceeded a million households", remarked Communications Market Specialist Joonas Sotaniemi. Following the retrospective corrections, growth on the previous year reached 3%.  Fibre availability figures include FTTB (the fibre reaches the property line) and FTTH (the fibre reaches inside the living space) connections with speeds of at least 100 Mbps. In addition to fibre, 100 Mbps connections were on offer via the high-speed cable modem network.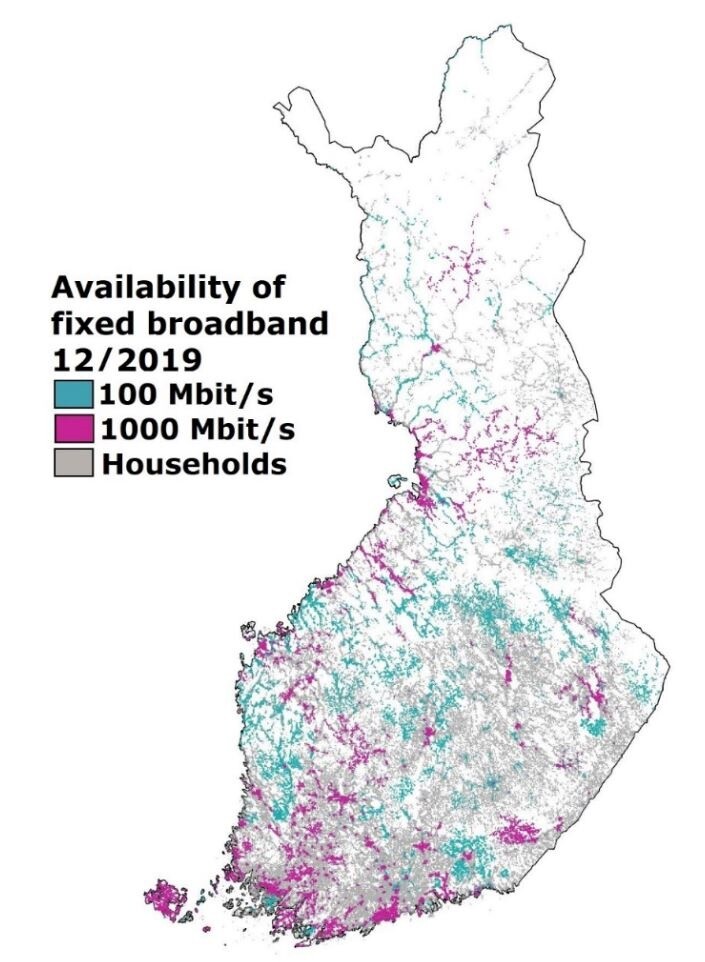 * The 2018 availability figures were amended retrospectively, which has an impact on the comparability of the data. The 2018 data was corrected due to substantial deficiencies in a particular set of data that had been previously submitted to the Agency.
For more information, visit the MONITORi service (External link). 
The star ratings are available for download in table form (External link) (in Finnish). You can also read more about how the ratings are calculated.
Fixed (External link) and mobile (External link) network availability data for 2019 by region and municipality.  
Enquiries
Elina Pallas, Senior Specialist, tel. +358 295 390 126, elina.pallas(at)traficom.fi
Joonas Sotaniemi, Communications Market Specialist, tel. +358 295 390 309, joonas.sotaniemi(at)traficom.fi